For an upcoming exhibition on the career of Dows Dunham at the Albany Institute of History and Art the Fund is commissioning Peter Leue, a noted Albany sculptor and master craftsman in wood and mixed media to re-create Dunham's reproduction of a funeral bed from the Nubian Kingdom of Kerma. Dows Dunham had previously worked on reconstructing the furniture of Queen Hetepheres, the mother of Khufu and applied his skills to making a modern copy of one of the ritual beds found in the excavations of the great tumuli at Kerma in the Sudan. After the exhibition it is planned to donate the bed to the site Museum at Kerma recently built by Charles Bonnet.
The reproduction bed is almost complete and has been funded by a generous contribution from the members of our 2016 Sudan Tour in honor of Charles Bonnet!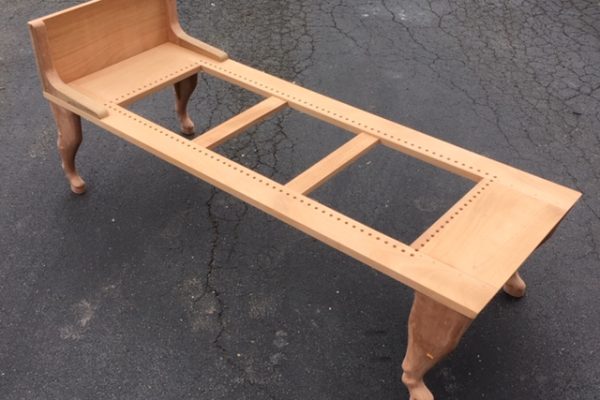 After the frame of the Kerma bed was constructed to the exact specifications worked out by Dows Dunham by master woodworker Peter Leue, what remained were replicating the inlays for the footboard. Luckily, a recent addition to Lark Street in Albany is Yamaguchie, a custom woodwork boutique. There were able to laser cut a footboard and inlays that were replicas of the one copied for the Boston Museum bed.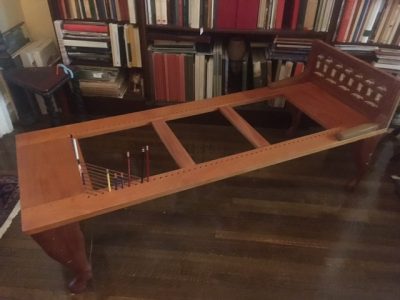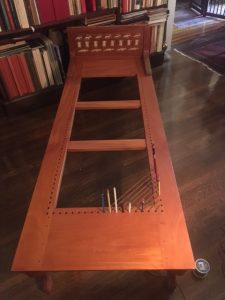 The inlays on the Kerma beds were largely made out of hippopotamus ivory and varied, evolving from simple geometric forms in the earlier examples to plants and animals like elephants, turtles, ostriches, bustards and deities like Thueris and a unique flying giraffe. The bed reproduced by Dunham for Boston was based on a bed from Kerma tumulus K 1053 dating to circa 1550 B. C. (BMFA 13.4219-23). That bed had a footboard inlaid with rows of Ibex, Thueris (a composite hippopotamus, lion and crocodile goddess worshipped both in Egypt and in Nubia) and hyenas.
The inlays for this bed were laser cut out of the basswood substrate and then painted and coated to look like the ivory originals and inlaid into the basswood substrate veneered in African mahogany to match the bed construction which in turn simulated the acacia of the Nubian originals.
All that now remains to be finished are the turtle/frog inlays on the footboard braces and the leather lacing.