The Ancient Egyptian
Heritage and Archaeology Fund
The Ancient Egyptian Heritage and Archaeology Fund is a private, non-profit organization with a mission is to support research and conservation on Egyptian history and culture. In particular it seeks to record and publish sites and monuments at risk from agricultural and urban expansion, looting and vandalism and climate change.
Mission
Deir el-Ballas
Deir el-Ballas is of great archaeological and historic importance, but the site is at extreme risk from both looting and from the uncontrolled expansion of the neighboring modern town.
Donation Appeal
Our season last year was delayed by Covid-19, so we had to work into late April and early May where temperatures approached 117 F . Despite the hardships we encountered, we were able to accomplish a great deal thanks to our hard working team of Egyptians and foreign specialists. You can see that progress in the attached newsletter. The dangers to the site make it imperative that we maintain our work there even during these difficult times.
Our next season of fieldwork begins in January. We will have a far larger crew this season than ever before, so are very much in need of your support. We hope to complete the conservation work at the 'South Palace' and make substantial progress on the North Palace. We are also planning to begin excavations in what we think was the administrative quarter of the city. This area was never before excavated and is an extremely exciting prospect. We also hope to finish up our work on Houses E and F by the North Palace.
In addition, we will complete the construction of a wall that stretches from the local school to the North Palace to demarcate the ancient settlement area from the modern town and have Egyptian artist Alaa Awad to create a mural on the wall depicting the site with an Arabic text to underscore its importance to Egyptian history for the schoolchildren, residents, and visitors alike. All this important work, of course requires funding, and we are a small organization not part of a large university or museum without all the support that such an affiliation would bring, so please join us with a gift today and encourage others to do so also.
Blog
Deir el-Ballas 2022, Week 6: 2/12- 2/13
Our last days on site were occupied with finishing the recording, registration, and storage of finds from the season, taking final photographs and measurements on-site, packing up the excavation equipment, and backfilling Houses E and F in the North Suburb. An important part of the Expedition's excavation work includes backfilling and reburying our trenches when the season is over. The reasons for this are to help protect the archaeol[...]
Admin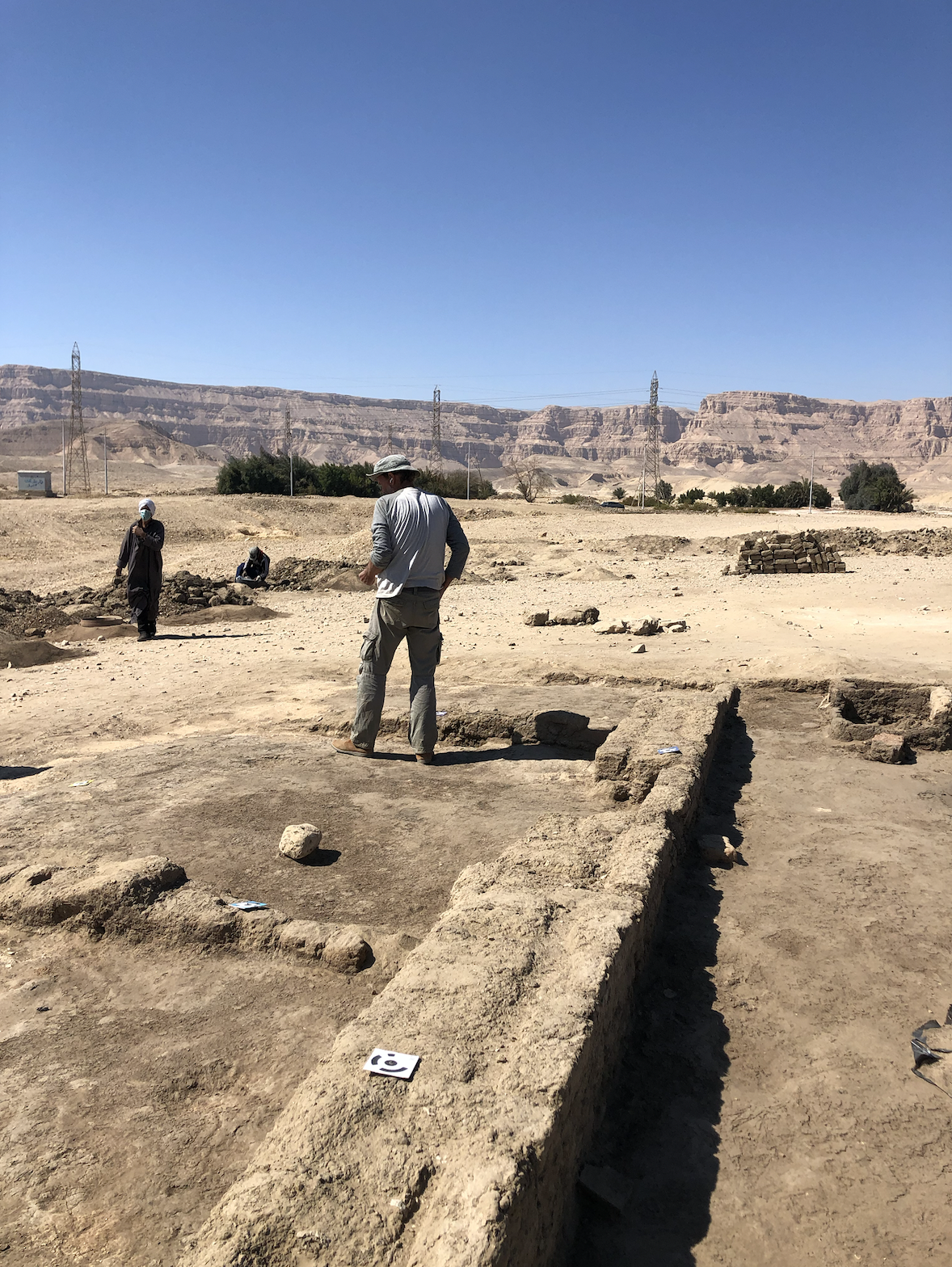 Deir el-Ballas 2022, Week 5: 2/5- 2/10
In our final week of excavation, Nicholas Brown finished his excavations of House E covering Room 4, the W2 "Corridor", Room 5, and Rooms S1-S3 (the ancillary spaces south of the textile workshop). The work at the North Suburb not only includes discovering domestic artifacts and collecting samples for future research (such as botanicals or pottery sherds), but it also demands that we properly record and document our work and what we f[...]
Admin