Deir el-Ballas 2023, Week 4: 1/21-1/26 and 1/28-1/30
Admin
We finished up this season by completing our on-site documentation, which was followed by back-filling our excavated trenches with sand and laying mud bricks on top of the exposed walls to protect them for the next season. We are also continuing to make new mud bricks for the future as they require several months to properly dry before they can be used. (Fig. 1).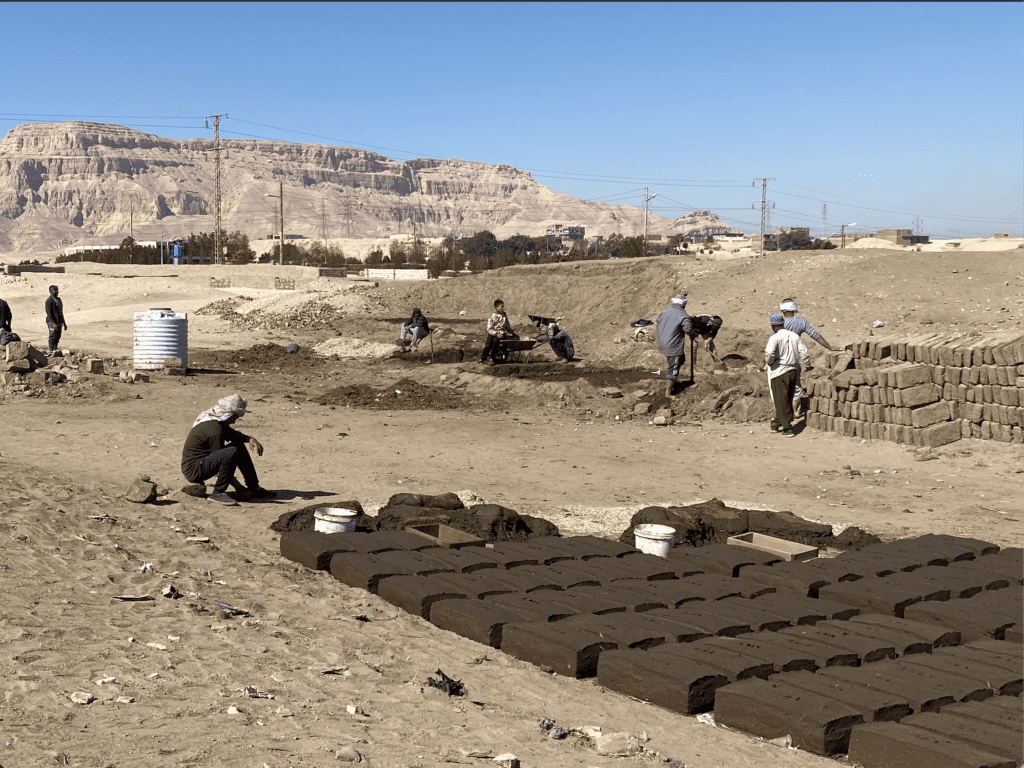 Most of what we find are pottery sherds, flint and stone tools, bits of wood and charcoal, along with soil and botanical samples, these do not warrant storage in the Antiquities storage magazines near Qena. Because of this, we bury these materials on-site for future study and analysis. The finds are grouped by material and archeological context and were bagged and inventoried by our team. They are interred in orderly groups so that specialists requiring specific artifacts can retrieve them easily.
Finally, we pack up all our equipment that is kindly stored in Luxor by Hassaan Mohamed Alil and the season's records are scanned to provide backup copies to the archive. We then issue a report on the work we have done this year for the Qena Inspectorate and the Ministry of Tourism and Antiquities. Work will continue even after we leave as we hope to have the protective wall demarcating the settlement by the school finished and two interpretive signs in Arabic and English for the North and "South Palace" (Fig. 2).
We also have to submit an account of the expedition expenses to The American Research Center's Antiquities Endowment Fund which in large part underwrote the costs of this and the previous season. We could not have assembled all the receipts and organized them without the deft assistance of Hassan Elzawy. The work for the next season must already begin as we plan the work to be done along with the fundraising to make it possible.
The success of the season was due to the skill and hard work of many individuals, notably, Mr. Ahmed Issa, Minister of Tourism and Antiquities, Dr. Mostafa Waziri, Secretary-General of the Supreme Council of Antiquities, Dr. Nashwa Gaber, Supervisor of the Permanent Committee of the Antiquities Department, Mostafa Hassan, General Director for the Egyptian Committee, Iyman Hindy, General Director of Qena Antiquities, Ashraf Nasser, Director of Qena Area, Maryanne Danielle, Director of West Bank Antiquities of Qena, Amr Gad el-Rab, Head of Foreign Missions and Excavations of Qena, Mohammed Hussein, Conservator of the Qena Area, and our inspectors, Mohammed Shahat Shamrouk, and Mohammed Mohamedine Isman Ismail.
Additionally, we would like to thank our 2023 Expedition staff Piet Collet, Nicholas R. Brown, Bettina Bader, Amr Shahat, Claire Malleson, Matei Tichindelean, Sarah Ahmed Aziz, Hassan Elzawy, Ana Oliveira, Victoria Shakespeare, and Gillian Pyke. Their efforts were greatly facilitated in every way by Hassaan Mohamed Ali. We were also fortunate to have Amira from the Qena Inspectorate as a trainee. We are also grateful to our talented cadre of local workers from Qena, Al-Deir el-Gharbi, and Luxor, and the Police who valiantly safeguard the site.
We would also like to thank Dr. Salima Ikram, Mr. Magdy Aly, and the American University in Cairo for their help and support, and to Dr. Pearce Paul Creasman and the University of Arizona Egyptian Expedition for their kind and generous hospitality at the Dig House in Luxor.